Personal > Visa Platinum Cash Rewards Credit Card
Visa® Platinum Cash Rewards Credit Card
For the first six months after opening, receive an additional 4% Cash Back based on the first $7,500 in monthly eligible net purchases.
VISA® Platinum Cash Rewards Credit Card
Earn 1% cash back every year! Cash back earned throughout the year will automatically be credited to your statement in May and November.
Visa Secure
Visa Secure is the new easy way to enjoy added security for all your online Visa card purchases. Through the secure authentication process, your identity is protected and confirmed.
Credit Card Benefits:
No Annual Fee

No Cash Advance Fee

No Balance Transfer Fee

No Foreign Transaction Fee

Travel & Emergency

Assistance 

Roadside Dispatch

Visa Secure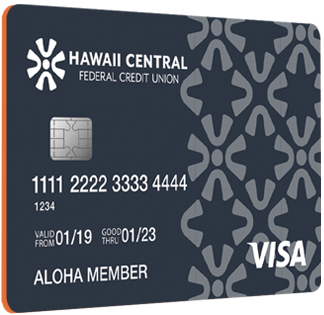 Manage your HCFCU Credit Card on the HCFCU Cards App
View credit card transactions

View credit card balance

View minimum payment due & next due date

Set up card controls & alert notifications

Lock & unlock your credit card

Assistance 

Make a payment

Report a lost or stolen credit card
*Promotional 6% cash back applies to the first $7,500 in monthly eligible net purchases and is only for new VISA accounts opened from 7/1/21 – 8/31/21. After the introductory 6 months, you will receive 1% cash back on all net purchases. Net purchases are purchases minus credits and returns. For the first 6 months after opening, the maximum monthly credit is $450.00 and is based on monthly eligible net purchases of $7,500.00. This offer is subject to change without notice. Cash back earnings are credited to your VISA account in your May and November statements of each year. Hawaii Central Federal Credit Union membership is required. Please see Platinum Cash Rewards Credit Card Terms and Conditions for complete details or call our Consumer Loan Department at (808) 536-0833.