Being a Member
As a member owned, cooperative financial institution, we live within our financial means with profits coming right back to our members in the form of dividends and higher returns on savings. At Hawaii Central, we strongly believe in helping our members achieve their financial goals and continue to seek ways to minimize fees to you, provide better loan and deposit rates, and find opportunities to provide financial education for you and our community.
Financing with Your Future in Mind
We have a variety of loans to meet your borrowing needs. Through an easy application process, we can help you finance everything from home improvements and education to a new car. Our friendly and helpful staff is available to answer any questions you may have and is there to ensure a smooth process from start to finish.
See Rates
Take advantage of Hawaii Central's competitive loan and savings rates.
Get Started with Online Banking
Hawaii Central offers "It's Me 247" online banking that provides you convenient access to your accounts. Check your balances, transfer funds and make loan payments, 24 hours a day, any day of the year!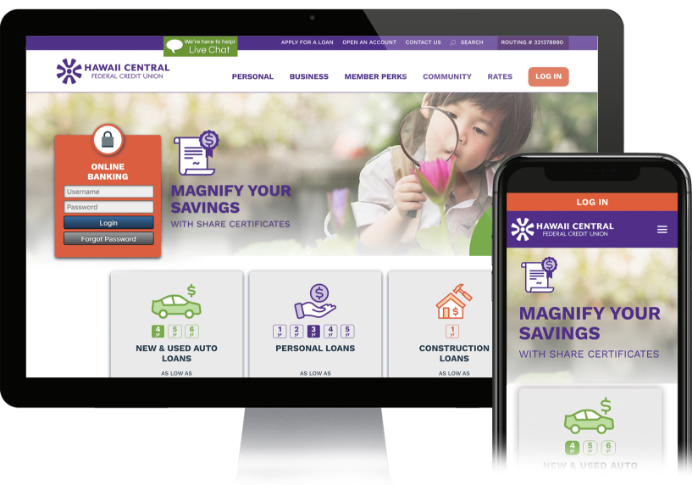 VISA®
Credit Card
Our Visa Platinum Cash Rewards Credit Card earns you cash rewards every year! Why wait years to save up reward points when you can automatically get rewarded every year reeling in your spent dollars back into your pocket.
VISA® 
Debit Card
Our Visa Debit Card offers members the convenience of a checkbook and ATM card in one. Use it for purchases at merchants displaying the Visa logo and the purchase amount will be withdrawn from your Share Draft Checking Account.