Hawaii Central Federal Credit Union Staff Volunteers Support Maui Fire Victims
Hawaii Central Federal Credit Union Supports the Institute for Human Services as they Celebrate their 45th Anniversary
June 13, 2023
Honolulu, Hawaii –In response to concerns highlighted in the new report by UHERO, a group of staff volunteers from Hawaii Central Federal Credit Union (FCU) volunteered their time at the Institute of Human Services (IHS), intending to help with getting much-needed meals out to the homeless community on Oahu.
The UHERO report entitled The Hawaii Housing Factbook, documented that Hawaii has the fourth highest homelessness rate in the United States. According to the report, fewer than one third of households in Hawai`i can afford the typical local home.
Celebrating 45 years of service with the help of the community, IHS Executive Director Connie Mitchell said, "The spirit of volunteerism by HCFCU is the kind of community involvement that made a huge difference back when IHS first started and is key to us keeping our doors open and people fed. Current staff shortages mean a volunteer might be the one that ensures a guest receives dinner or gets their pillow and blanket for the night."
Many of these guests had been living on the streets of Oahu without access to cooking facilities and unable to meet their basic daily needs before entering the shelter for respite. The team made time after work over the evening of July 11th and returned after work last evening to serve up a hearty chicken dinner, courtesy of IHS. The team also helped to prep breakfast for this morning.
"It was a very humbling experience," said Hawaii Central FCU Consumer Loan Officer and volunteer Jorge Phillip Lafedez.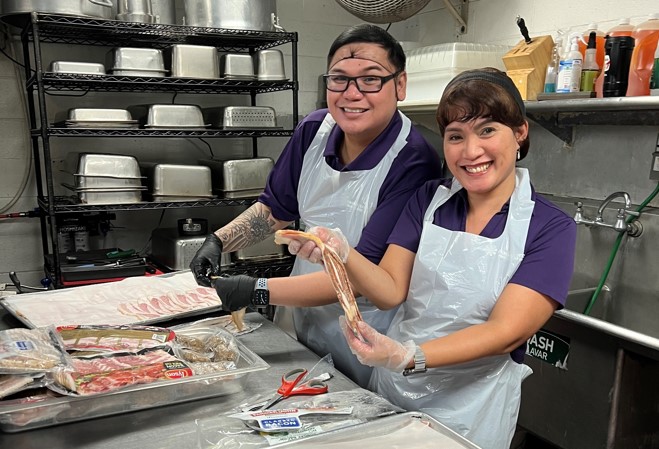 Hawaii Central Federal Credit Union Presents HUGS with a Check
August 1, 2023
Honolulu, Hawaii – HUGS Executive Director Amy Morton-Sogi and Development Director Alex Wereszczynskyj stopped by the Hawaii Central Federal Credit Union (FCU) Main branch on King Street where they were presented with a check in the amount of $1,052.00. Last week, a team of ten staff volunteers cooked up some local favorites for co-workers in exchange for a fifteen-dollar donation. The team sold 51 plate lunches, and presented 100% of the proceeds to HUGS, yesterday afternoon.
Morton-Sogi said, "We support families with seriously ill children to provide both emotional and financial support to local families." Monthly programs include mom's and dad's nights, family events and respite activities for HUGS kids and their siblings.
Quite surprised by the outpouring of love, Wereszczynskyj asked how Hawaii Central FCU chose HUGS. Employee group member Kien Bayawa explained it was a group decision. After selecting five non-profit organizations, each member of the group reviewed their missions and a general overview of their activities, and the "majority of the team voted for HUGS."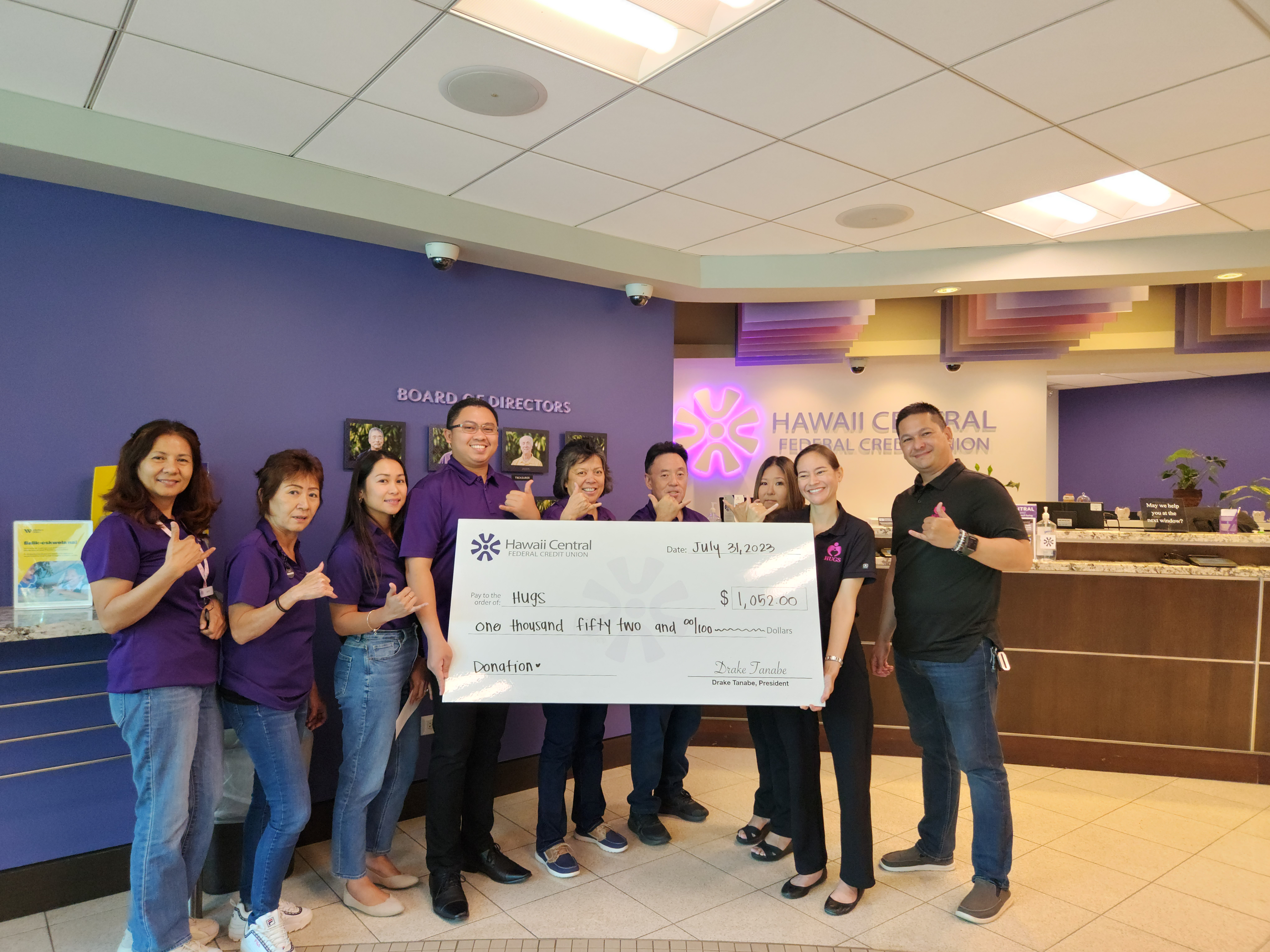 Hawaii Central Federal Credit Union Volunteers Raise Funds to Support HUGS
July 26, 2023
Honolulu, Hawaii – In an effort to raise money for the non-profit HUGS, a group of 10 volunteers with Hawaii Central Federal Credit Union (FCU) took to the kitchen to cook up some local favorites for co-workers in exchange for a $15 donation. One Hundred percent of the proceeds will support the HUGS of Hawaii mission to help families with children diagnosed with life-threatening conditions like cancer, respiratory illnesses, diabetes, and stroke.
"Donations will help children and parents with respite," said group member Kien Bayawa. "The money will also be put towards programs to help families facing an unforeseen crisis or challenge."
The team sold 51 plates to their coworkers who chowed down on a plate lunch that included Morcon (Filipino-style Meat Loaf), BBQ Chicken, Taegu, Spring Rolls, Rice, Pancit, Mac Salad, Banana Lumpia and a drink. With only 39 employees working at Hawaii Central FCU, the team more than reached their goal of 100% participation.

Working to Fight Low College Enrollment
with the Student Choice Student Loan Program
Having passed the June 30th deadline to complete the Free Application for Federal Student Aid (FAFSA), late applicants for federal financial aid should be receiving their award letters from colleges and universities and will know whether they will need additional funding through a private student loan program like the Hawaii Central Federal Credit Union (FCU) Student Choice Student Loan Program.
The Student Choice Student Loan Program can help fill funding gaps left after students apply for federal student aid to fund their 4-year undergraduate degree. Before Hawaii Central FCU can help, however, students must have filled out the FAFSA for the year in which they are applying to determine whether there is a gap. Once that process is complete, we are here to help when federal student aid is not enough to make the dream of higher education and lifelong career goals a reality. 
The application process is easy; and once approved, the funding renews yearly over the 4-year term through a revolving line of credit for students who continue to meet loan requirements. Loan requirements include meeting academic requirements with their 4-year educational institution.
"Although we are recovering from the pandemic, it had a huge impact on college enrollment, and we want to be a part of the solution," says Hawaii Central FCU President Drake Tanabe. "Our keiki are our future, and we need to set them up for success."
According to the 2021-2022 year-end report by P-20, college enrollment remains below pre-pandemic levels. The report states, "Public-school graduates who enrolled in college was down from a pre-pandemic level of 55% to 51%".
P-20 is a statewide partnership led by the Executive Office on Early Learning, the Hawai`i State Department of Education, and the University of Hawai`i System that works to strengthen the education pipeline from early childhood through postsecondary education and training with data-informed decision making, advocacy, policy coordination and shared action.
College Bundle
College students away from home and their families may want to consider our College Bundle as well. The College Bundle is a host of products and services designed to keep students connected with mom and dad, making it easy for parents to ensure their child is prepared, financially, to meet day-to-day expenses as well as address emergencies as they arise. Video Banking Specialists are available to get families started with the College Bundle, which includes:
Central Savings
Central Checking with Debit Card (Apply to see if you qualify)
VISA Share Secured Credit Card (Apply to see if you qualify)
Shared Branching (5,000+ locations nationwide)
NO SURCHARGE FEE – ATM Access (30,000+ATMs nationwide)
Online & Mobile Banking with Mobile Check Deposit
Those interested in the College Bundle may also come into one of our branches for more information and to get started in person.
CELEBRATING DIVERSITY: COUNCILMAN AUGIE TULBA AND US REPRESENTATIVE ED CASE VISIT WITH THE HAWAII CENTRAL FCU FILIPINO COMMUNITY RELATIONS TEAM AT FLORES DE MAYO
With Filipino Americans representing a significant segment of the Hawaii Central Federal Credit Union (Hawaii Central) membership and as a part of an organizational commitment to diversity, the Credit Union recently established its premier Filipino Community Relations Team to help meet needs within the Filipino community. In addition to being highly skilled and having an in-depth knowledge of Hawaii Central's products, services and benefits, members of the Hawaii Central Filipino Community Relations Team speak Tagalog, Ilocano and Visayan.
The team recently participated in the Flores de Mayo Filipino Fiesta, held at the Filipino Community Center in Waipahu on May 6, 2023. The Hawaii Central tent was frequented by visitors throughout the day, including Councilman Augie Tulba and US Representative Ed Case. Visitors to the tent received valuable information on our low rates and had a chance to try their luck at winning various prize giveaways.
"We are honored and pleased to be here, celebrating the traditions, culture and heritage of the Filipino community," said Filipino Community Relations Officer Engie Pagaduan. Actively involved with the United Filipino Council of Hawaii, Pagaduan has attended the celebration since its advent in Hawaii. Pagaduan said the Filipino Community Relations Team "was formed to help the Filipino community realize their financial goals". Matda Bautista-Cadiz and Janet Viray work closely with Pagaduan in the branch and said they are happy to be on the team to support her efforts in the Filipino Community on behalf of Hawaii Central.
Under the leadership of Pagaduan, along with other volunteers, the team of ten was passionate about engaging the Filipino community on Oahu. Together, they were available on Saturday to help attendees open new accounts and explain Hawaii Central's various benefits, products, and services.
As the first financial institution in the State of Hawaii to offer video banking services, Digital Banking Specialist Riza Reyes was on hand to explain how this service helps members keep connected with Hawaii Central in real time while they are globetrotting, maybe even while visiting the Philippines. "With video banking, we can help members, and potential members, open an account, apply for a loan, e-sign certain documents, and of course we are available to answer questions."
Mortgage Loan Processor Reyna Dallago and Real Estate Loans Administrative Assistant Kimberly Mondejar spent the day connecting with attendees. "The most rewarding thing [about] working at Hawaii Central Federal Credit Union is that helping people is the most important," said Mondejar. "In our Real Estate Department, we offer the First-time Homebuyer Program."
Unlike a conventional home loan that requires 20% down, through Hawaii Central FCU's First-time Homebuyer's program, dreams of homeownership become a reality with just 10% down. As an added benefit, there is no mortgage insurance required through this program.
Hilda Reyes-Almodova, Kryzel Valdez and Donna Badua worked to help attendees, interested in taking advantage of the benefits and services offered by Hawaii Central FCU, open new accounts on the spot.
Among the services that interested attendees was Hawaii Central's ACH (Automated Clearing House) on demand service. "ACH on demand service allows our members to actually access pending funds, pending credit funds, that otherwise would have taken 1-2 business days to post. It's not just payroll credits, but its for any type of credit," said KJ Bayawa, Accountant, and accredited ACH professional.
There were lots of giveaways at the Hawaii Central booth, and visitors who spun the wheel were qualified to enter a raffle in one of four drawings for a $50 VISA gift card.
"We recognize our community is diverse in culture and needs and we are intent on providing innovative products and services," said President Drake Tanabe. "In addition to Tagalog, Ilocano, and Visayan, we have staff who speak Samoan, Spanish, and Palauan."
The Hawaii Central Federal Credit Union (Hawaii Central FCU) 85th Annual Meeting was held at the Japanese Cultural Center on April 1, 2023. In addition to the official business of the meeting, Digital Banking Specialist Riza Reyes demonstrated a video banking call with Nick Gowey of CU Answers. Nick, who joined us from Las Vegas, announced the two lucky winners who walked away with $500 Hawaiian Airlines gift cards as participants in our educational activities.
We celebrated freedom to travel the globe and the digital services that keep Hawaii Central FCU with members as they "Explore the World". Members were greeted by the Hawaii Central FCU staff who took them on a virtual trip around the world, demonstrating our digital services suite. Our digital services suite helps members who are pressed for time and have difficulty coming into the branch. The suite includes video banking, our mobile app, online banking, mobile check deposits, bill pay and pay anyone.
As evidenced by the smiling faces, hugs, and sounds of laughter, members were happy that we were able to meet in person.
There were lots of great prizes. Congratulations to Gerri S., our grand-prize winner. She took home a $1,000 Hawaiian Airlines Gift Card and a new luggage set.
Of course, we were there on official business. Interim Secretary Ariel Chun announced there were 127 members in attendance and that we had achieved quorum. Members in attendance heard from Board of Directors Chairman Neil Shimogawa.  They reviewed reports from Chairman Shimogawa and President Drake Tanabe, Treasurer Sam Aucoin, and Supervisory Committee Chairperson Blaine Hedani. The previous meeting's minutes were also approved by the membership in attendance.
Elections were uncontested. Shimogawa was confirmed to serve another term as Chairman of the Board and Garrett Kawamura was confirmed to serve another term as Board Director.
Big Mahalo to the staff who made this event happen and, especially, Riza Reyes whose creativity and coordination, behind the scenes, made this event a big success!
WINNER: Leilani B. You Could Win, Too!
Members who make a mobile check deposit through the Hawaii Central FCU mobile app between April 1st and May 31st, 2023, will be entered to win a Samsung 55" T.V.
Each quarter in 2023, we're giving away a prize to one lucky member just for using or enrolling in one of our products or services. In the first quarter, members who enrolled in eStatements were automatically entered to win an Ooni pizza oven. Leilani B. enrolled in eStatements last quarter and won!
Leilani has been a member of Hawaii Central FCU for nearly 30 years. When asked what keeps her at Hawaii Central FCU, Leilani talked about our service and products like our auto loan and HELOC programs she used in the past. "The rates are good," said Leilani. "Everyone is very friendly, and they are always helpful.
Leilani is a mother of two, working as a Reservations Manager at Ala Moana Hotel. Although she prefers to come into the branch to see friendly faces like Isabel in Operations and Julie in Consumer Loans, Leilani is pressed for time with her new schedule. She often accesses her Hawaii Central FCU account through shared branching and First Hawaiian Bank ATMs located at 7-11 stores and Zippy's restaurants. She has also started using the Mobile App to do Mobile Check Deposits.
From all of us at Hawaii Central FCU, we want to say: Congratulations Leilani!
Now, here's your chance to win!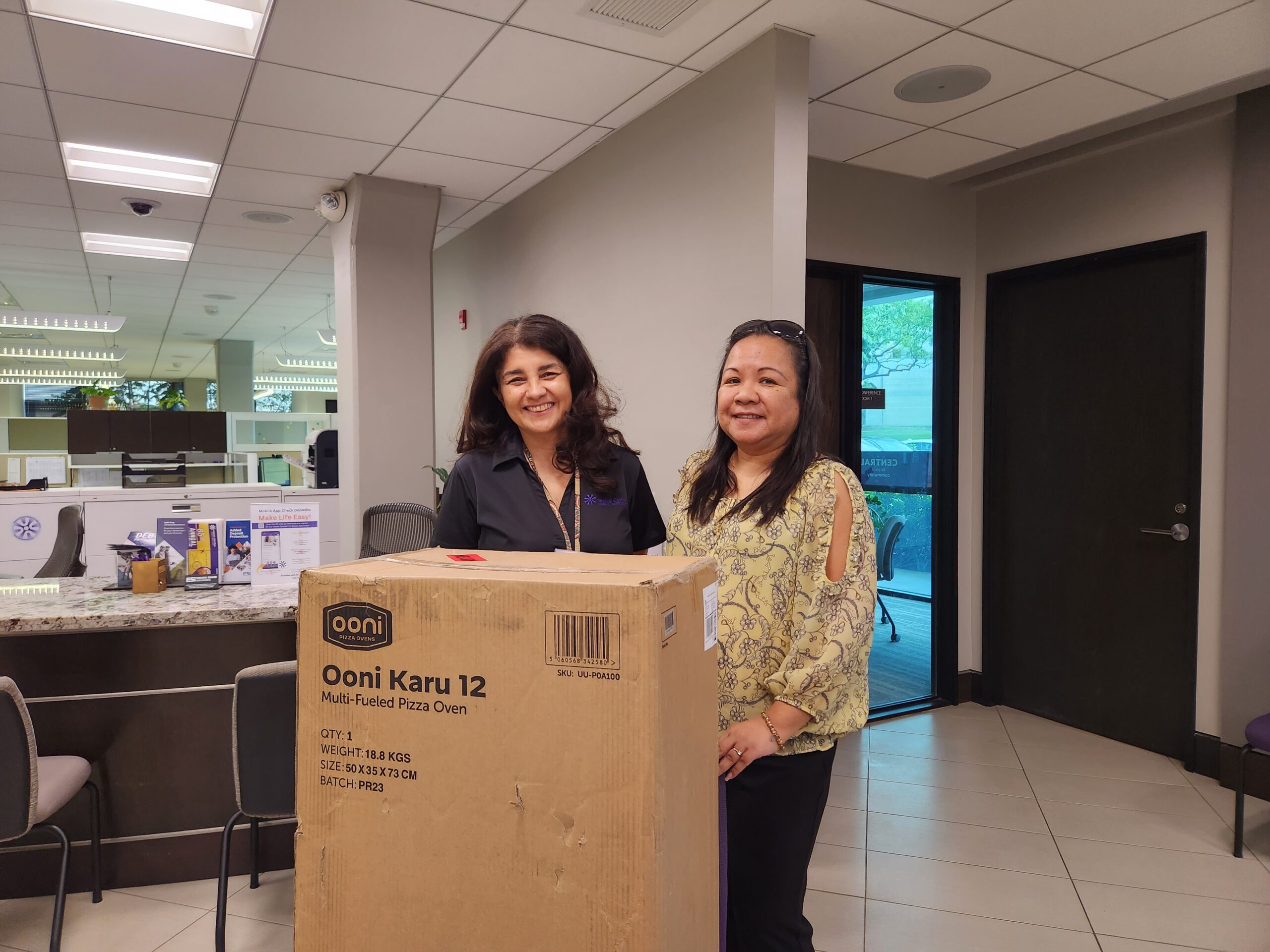 Q2 2019
Walk to Cure Arthritis
Hawaii Central FCU team Ohana raised $550 for the Arthritis Foundation. We had a taco lunch fundraiser at the main branch and participated in the 2019 Walk to Cure Arthritis on May 19, 2019.
$550
RAISED
1
MILES WALKED
5
Volunteers
Arthritis Foundation
The Arthritis Foundation is boldly pursuing a cure for America's #1 cause of disability while championing the fight against arthritis with life-changing resources, science, advocacy and community connections
LEARN MORE AT:
arthritis.org/hawaii