Hawaii Central Federal Credit Union Presents HUGS with a Check
August 1, 2023
Honolulu, Hawaii – HUGS Executive Director Amy Morton-Sogi and Development Director Alex Wereszczynskyj stopped by the Hawaii Central Federal Credit Union (FCU) Main branch on King Street where they were presented with a check in the amount of $1,052.00. Last week, a team of ten staff volunteers cooked up some local favorites for co-workers in exchange for a fifteen-dollar donation. The team sold 51 plate lunches, and presented 100% of the proceeds to HUGS, yesterday afternoon.
Morton-Sogi said, "We support families with seriously ill children to provide both emotional and financial support to local families." Monthly programs include mom's and dad's nights, family events and respite activities for HUGS kids and their siblings.
Quite surprised by the outpouring of love, Wereszczynskyj asked how Hawaii Central FCU chose HUGS. Employee group member Kien Bayawa explained it was a group decision. After selecting five non-profit organizations, each member of the group reviewed their missions and a general overview of their activities, and the "majority of the team voted for HUGS."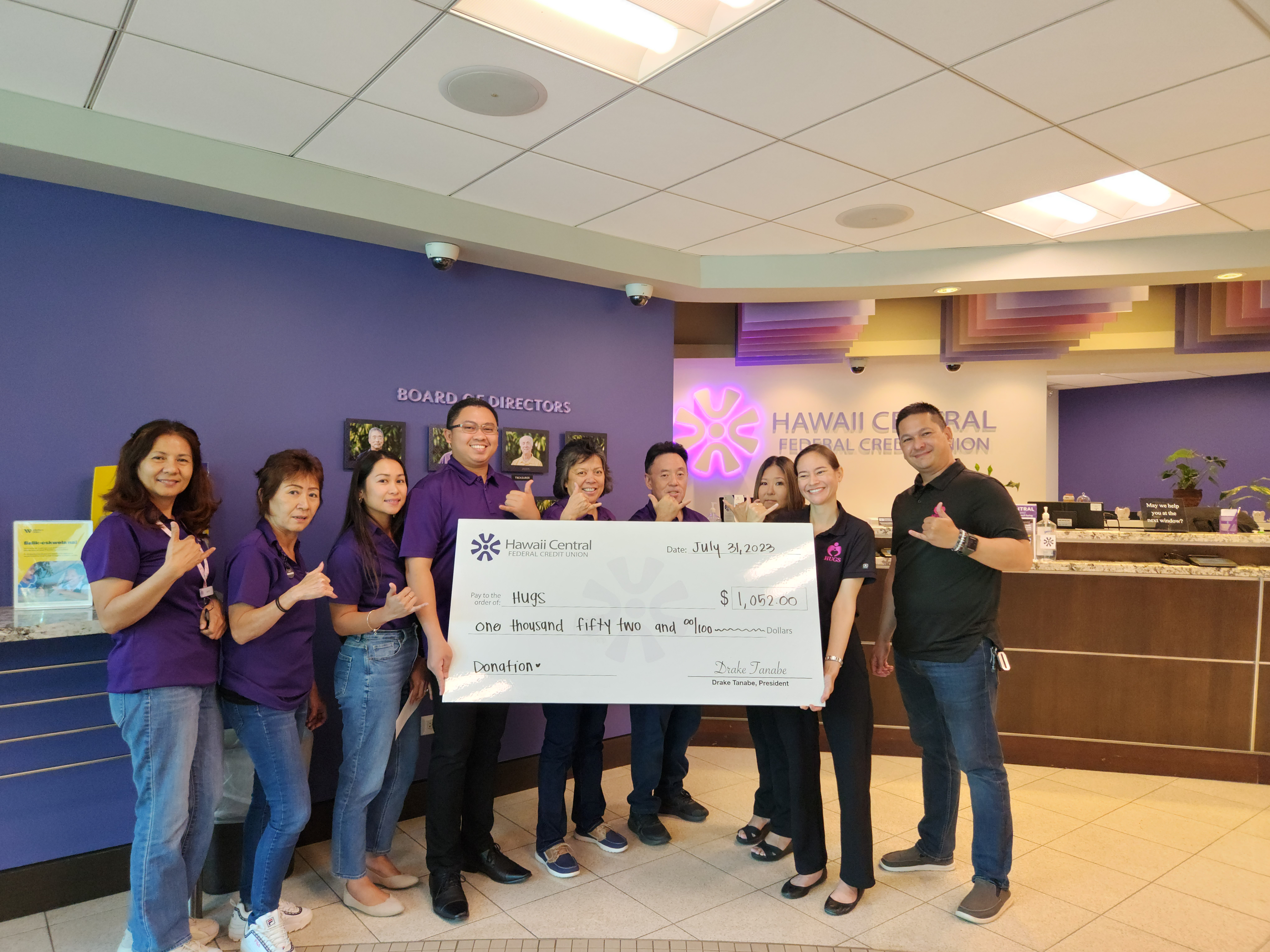 Hawaii Central Federal Credit Union Volunteers Raise Funds to Support HUGS
July 26, 2023
Honolulu, Hawaii – In an effort to raise money for the non-profit HUGS, a group of 10 volunteers with Hawaii Central Federal Credit Union (FCU) took to the kitchen to cook up some local favorites for co-workers in exchange for a $15 donation. One Hundred percent of the proceeds will support the HUGS of Hawaii mission to help families with children diagnosed with life-threatening conditions like cancer, respiratory illnesses, diabetes, and stroke.
"Donations will help children and parents with respite," said group member Kien Bayawa. "The money will also be put towards programs to help families facing an unforeseen crisis or challenge."
The team sold 51 plates to their coworkers who chowed down on a plate lunch that included Morcon (Filipino-style Meat Loaf), BBQ Chicken, Taegu, Spring Rolls, Rice, Pancit, Mac Salad, Banana Lumpia and a drink. With only 39 employees working at Hawaii Central FCU, the team more than reached their goal of 100% participation.